Vagrant at AWS6
Antweight World Series 6 was held at Leeds University Students Union on a sunny Saturday late in 2001. It attracted 19 competitor robots and its eventual winner was Anto, an amazingly strong but simple and well driven pusher robot. AWS6 was Vagrant's first competitive outing.
The first round was a series of eliminator battles with the order drawn at random from a hat. Neither of Vagrant's opponents would be pushovers as we were drawn to fight against a well designed and effective crusher called Defiant and a fearsome saw equipped robot called Mutant.
The fight started well from Vagrant's point of view. Defiant circled at a distance while Mutant came in to try to damage the less experienced competitor. Fortunately Vagrant's strong point is its armour and several attacks were repelled with minimum damage. A couple of cuts were made in the HDPE outer armour and there was a scratch in the polycarbonate top armour but fortunately these were nothing serious.
At this point, Defiant stepped in to have a go. After a quick skirmish with Mutant he turned his attention to Vagrant which was able to evade the first attack.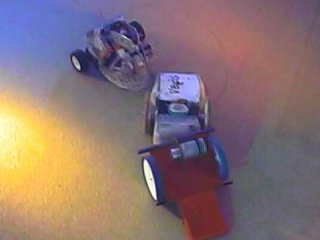 Unfortunately for Vagrant though, Defiant was able to turn fast enough to attack from the side. Defiant's arm is a very good crusher, but in this case it was not required to do any crushing. Instead, he managed to hook the tip of the crusher over Vagrant's wheel, clamping the wheel in place and lifting the other wheel off the arena.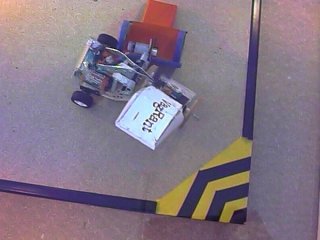 Having thus imobilised Vagrant, it was a simple task for the driver of Defiant to go to the edge of the arena and drop Vagrant into the dead zone. Bad news for us but a manoeuvre well executed! He even managed to stop Mutant pushing both robots off the arena at once, though this probably had something to do with the fact that by carrying a 150g robot he was instantly a 300g pusher. Defiant went on to win the fight by pushing Mutant out of the arena by brute force, but went out to the eventual winner Anto in the next round.
So how did Vagrant perform? Not as badly as it could have. The armour performed brilliantly and the robot was reliable with no power problems, but the limited grip from the rubber band tyres meant pushing power was not impressive. We lost because of inexperienced driving, pure and simple. How much longer we'd have lasted if the driving had been better is debatable but more experience will produce better performance.
We'll be back for AWS7 :).